Have you ever had one of those moments when you thought, "This right here, this is what I'm here for; this is what I was born to do."? This would be one of those moments that Lance Wallnau calls "convergence"; when passion, gifting, calling and occupation come together into one thing that you do, bringing glory to God. Some might call it being in your "sweet spot". This is where I want to be 100% of the time!
One of those moments happened for me when I received a phone call from a family in Louisiana who wanted a blanket for their one year old son, who was having surgery.  It was so encouraging to me to hear that every night, mom prays the blessing from Numbers 6:24-26 over their children and that these verses were already very special to them. What an honour it was to be able to sew a blanket especially for their little man, pray over it and pray for him. Little children are so very close to the heart of God; the Kingdom belongs to them. Not one of them goes unnoticed; God remembers and sees each one. I love that I can join our God in remembering them and interceding for them, especially at critical times in their lives.
Little Isaac's surgery went very well and his dad sent me this photo of him with his big brother, after his surgery. He gave me permission to share it with you.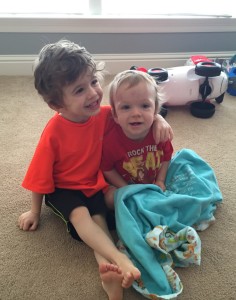 Aren't they precious! I love this ministry!
Speaking the blessing over your children releases God to hem them in on every side! Open your mouths friends and speak the Words that bring life.
Celebrating God's goodness today; especially with my friends in Louisiana! Thank you for allowing me to be a part of your children's lives!